Dearest friends of No Straight Lines,
We were still beaming after a perfect trifecta of three prestigious film festival premieres in June,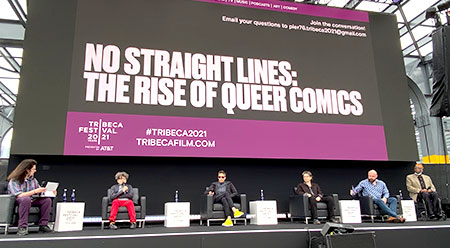 when Outfest (the major LGBTQ film festival
in the U.S.), awarded us with the Documentary Feature Grand Jury Prize just last week!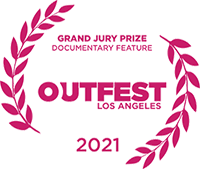 This Grand Jury Award confirms No Straight Lines
as a top queer doc of 2021, and qualifies us
for an Oscar! We are on cloud nine.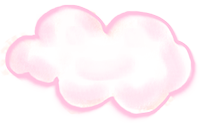 A Little Backstory
Taking you back in time - the film had its World Premiere in June at the Tribeca Festival (New York) and an outdoors screening on a JumboTron at Pier 76 over the Hudson River. The next day, the film had its International Premiere at Sheffield Doc Fest (England), followed by the American Film Institute DOCS Festival (Washington, DC).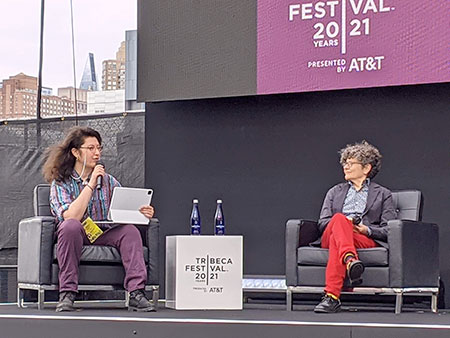 We're honored to be part of these storied festivals, most especially since competition for even fewer festival slots this year was fierce.
Discussions after the film screenings were incredible - some in person, some live online Q&As across time zones, some pre-recorded, but all of them dynamic and generative. Most of the audience questions focus on the artists and their work. Many of the discussions emphasize the filmmaking process, as was the discussion at the Director's Guild in Los Angeles last week.
It's clear that the film is reaching a much wider audience than we
ever expected.
We Had Great Response from the Press
Including coverage by CBS News, ArtNet, and these words from Filmmaker Magazine:
"Kleiman does a phenomenal job... A film that evokes laughter with the timeless humor of queer comics while engaging as well with the AIDS crisis and other elements of historical LGBT political oppression, No Straight Lines succeeds in blending history with narrative, ultimately doing justice to the rich history of queer comics."
Filmmaker Magazine, Sally McGee

"Kleiman tells a wider and deeper tale about the power of seeing one's experience represented... Kleiman made the artwork itself the star of film."
San Francisco Chronicle, Andrew Gilbert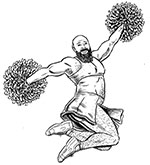 One of "2021 Tribeca Festival: Opening highlights you can stream at home"

"An entertaining and enlightening documentary... Traces the evolution of comics as a social movement, and artistic expression as a vital channel of sexuality."
CBS News, David Morgan




And This is Just the Beginning!
No Straight Lines continues to gain momentum, inspiring audiences at high-profile venues around the US and the world - from Brooklyn to Barcelona, San Francisco to Seoul.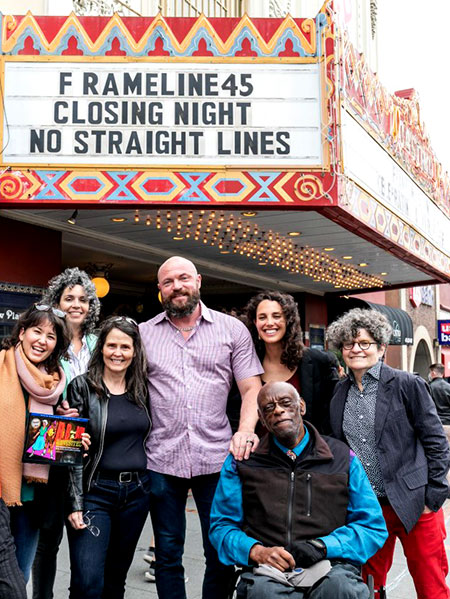 If You Haven't Yet Seen the Film. . .
We hope you can soon! Stay tuned on our website for screenings and events as they develop.
If you have suggestions for conferences or groups of people you think might be interested in arranging a No Straight Lines screening, please reach out to us at: nslthefilm@gmail.com.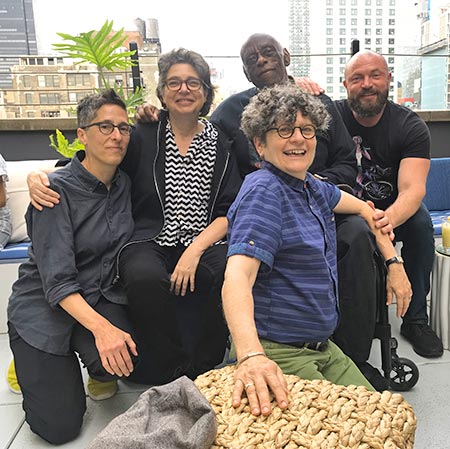 We're also seeking funds to implement an impact campaign.
If you'd like to support our vision, visit the Donate page on our website.
As ever, thank you for your encouragement and generous support.

Thank you
for being a part of this creative community!

Best,
Vivian and Justin